FINANCE OUR ORIGINAL NETWORK SHOWS

BUILD YOUR FINANCIAL PORTFOLIO WITH OUR PRODUCTION ASSETS
Looking to build up your financial portfolio. Invest in the production of original network shows with Wave Network LLC in Rockville, MD. We can help put together a lasting asset to bring you future financial stability.
WHAT DO YOU GAIN FROM AN INVESTMENT WITH US?
View and invest in various categories from television dramas to comic books.
Choose from a variety of "Episode Loans" for original network shows which display production cost and returned interest
Receive monthly payments to your Paypal account or an e-check in your email account.
Diversify your portfolio by selecting individual "episodes loans" from different Internet Television shows listed
SUBSIDIZE PRODUCTION PROJECTS

WE WILL PRODUCE THE PROGRAMMING YOU WANT
Want to give back to the media community while earning at the same time? Help subsidize the efforts of various partner production companies of Wave Network LLC. We offer a very convenient and flexible investment plan for each of our production projects, so you can rest assured that you are getting the programming you specifically want.

The investment platform of Wave Network works similarly to that of an e-commerce store but instead of physical products there are shows, each with its own listing of episodes that will be produced for that entire season. These episodes are known on the platform as "episode loans" and they are what makes up an investor's investment portfolio.
For example:
The Matriarch will produce 19 episodes for the first season.
Each episode in the season is a loan and can be selected. When an investor invests in a singular "episode loan" he or she has invested in the show.
In order to reduce the risk of loss to our investors, Wave Network releases a single pilot loan for each show that has been selected or created for that entire primetime season lineup, that way if a show isn't successful during the pilot's premiere we won't place anymore episodes on the platform, meaning the show has been canceled. Shows canceled are listed on the website to keep investors informed as well.
After the pilot's premiere on affiliate and owned and operation stations, the listing of five more episode loans will appear, indicating that the network will order another five episodes until the total episodes listed on the show's investment page has been reached for that season.
Every time episodes are ordered by the network, investors have an opportunity to earn more interest on their individual loan, and are paid monthly their loan with interest until paid in full. After that, the whole process of investing in a totally new season begins.
Shows that have been renewed for a second season will appear on the investment platform toward the end of the show's first season finale.
Every individual "episode loan" is removed from the platform after the amount needed has been reached, and will not be reposted again.
For example:
Episode 3: 10% at $350,000
Episode 4: 12% at $450,000
*Are listed each with a different interest rating according to the estimate price and factors needed for the actual production.
Episode loans are removed when the cost of production has been agreed upon with the hired production company or the goal has been reached in order to begin production. If a loan stays listed longer it's because an estimate given by the production company has to continually be adjusted in order for production of a project to continue. Once the final estimate has been agreed upon, the loan removed.
Continuing our example:
Episode 4: 12% at $450,000
This is now the only one listed because the estimated amount is continually being adjusted in order to cover the cost of production for that particular episode.
This method of adjustment protects both investor and the network, as the budget of television shows are hard to pinpoint until actual production is about to begin. This also allows new investors an opportunity to invest in a show if they haven't already done so.

Once you have shopped around and taken a look at the many shows offered, you will choose from a variety of individual episode loans to make up your total investment.
For example, you choose to place in your shopping cart:
The Matriarch Episode 2 at 10% interest. You choose to select the $25 investment amount.
$25 plus 10% interest will be your investment return from that loan.
You also place into your cart Junction 5.0 "Pilot" at 14% interest. You choose the $100 investment amount. $100 plus the 14% interest will be your investment return from that individual loan.
The total amount of investment returns will be paid in monthly installments to investors until the investment amount and the interest rate associated with it is paid in full.
All investments are located to the right of the show's synopsis, and start at the $25 level.

Interest rates are based upon the estimated price plus what is actually needed for the project. Factors can include an actor/actress, a talented makeup artist, on location shoots, CGI, and screenwriters who are hired as part of a team to write for the show.
LOAN GRADE RATES: The Risk and Reward

An episode loan's interest is known on the platform as a rating. Wave Network assigns ratings according to the estimate price and the actual attributes that are needed to produce an episode since most television dramas' estimated budgets have to be adjusted.
Each rating has a letter (A, B, C) and a color associated with that particular letter for investors to follow and understand the risk factor associated with the episode he or she wants to invest in.
The darker the color on the scale, the lower the risk and interest rate.
The brighter the color on the scale, the higher the risk and the interest rate.
Episodes that are badged with a higher rating on the scale have a higher amount of return but carry a significant amount of risk due to what will be needed to actually produce that episode.
Episodes badged with a lower rating on the scale have a lower amount of return but less risk associated with them. Typically, multi-camera sitcoms are listed in this category.
Wave Network will continue to add new ratings every time a show is added to the platform that hasn't been covered by a previous rating or has certain factors that must be included in order to inform investors about the amount of risk involved.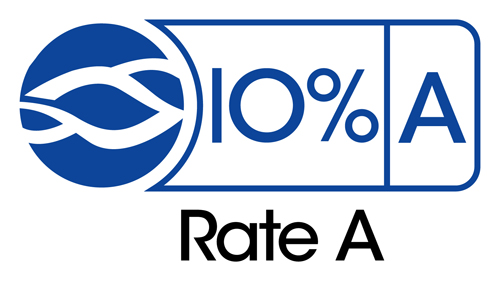 Rate A: indicated by the dark blue color is the darkest on the scale, it carries the lowest amount of risk. Factors that fall into this category are:
shot in the studio and not on location

quick production turnaround
The rating will look like this when it appears on a project page.
Remember, individual episode loans are labeled with ratings, not the entire project. Some episodes in a project can be given higher ratings if they contain factors such as being shot on location or SFX (Special Effects).

There is a $25 maintenance fee charged from your first monthly return. (check or PayPal).

Wave Network strongly believes in and protects personal and financial information of those who invest. Investors and show producers never know each other's identities; we never sell, rent, or otherwise distribute your information. We only display the necessary information needed to finance the show.

Wave Network uses two methods to repay returns to investors. If you're in the United States you will receive a return in the form of an e-check that is delivered directly to your personal email account. It can be scanned by your smart phone or directly deposited into your bank account. Please visit the Deluxe eCheck website for more information. Our international investors receive their returns by PayPal only. Signing up for a PayPal account is free. Please visit PayPal's website for more details.